What is a hay buggy?...
A hay buggy is a tool that carries a single round bale of hay behind a pickup or SUV. A lot of folks are forced to buy the smaller square bales of hay due to transport difficulties associated with round bales. One of these allows you to buy the more economical round bales and take them directly to your field to the animals all without needing a tractor to move it with. Pound for pound, round bales are much more economical than square bales and the savings will add up significantly.
I got to looking around at the hay haulers out there on the market and found most of them had some serious issues. I saw some good and a lot of bad out there being sold by others. I just couldn't find anyone within 250 miles of here that built and sold a hay buggy that I'd trust to do the job and last for any real amount of time. This led me to start building quality hay buggies for the North Texas market. I build mine to be long lasting and user friendly. I've been building and welding for over 20 years now so I like to think I've learned what works and what doesn't.
First and foremost, I make them with ease of operation in mind. My little tiny wife can load and unload a round bale with one of these without any difficulty at all. You just release the winch to lower the forks to the ground, back up to the bale and then crank the winch to pivot the bale up on to the unit. To unload, it's simply the reverse process.
Here are some features of my buggies that I feel stand head and shoulders above the rest of them on the market...
Strength of Materials...
All of the round pipe that makes up the backbone, winch post, and hay saddle is 2 3/8" diameter drill pipe. This is the same pipe that the oil companies use to drill miles deep through the ground. The side braces are 2 inch angle iron, 1/4 inch thick. Most competitors use rebar instead of the angle iron I use. And, at $1.62 per foot, my cost, I'm sure they save some money by cutting corners here, but I'm not going to build something weaker just to save 20 dollars per unit. Rebar is great for concrete, but it has no business being used in the structure of a trailer.
Axle...
A lot of builders use old mobile home axles and wheels under theirs. That gives the owner a product with a used axle and bearings as well as weird tire sizes that aren't readily available. How many times do you see a mobile home on the side of the road with a blown out tire ? Pretty often ! They're meant to be used one time, that is to deliver the mobile home, and never used again. I use new 3500lb Rockwell brand axles made right here in the good ol USA and real 15 inch tires which can be bought at any tire store in America 7 days a week. You're getting new bearings, seals, lugnuts, and grease caps here too. I special order my axles wider than most trailer axles when I buy them from the supplier too. This allows more room between the bale and tires. This way you can even haul large oversize bales without worrying about the bale rubbing the tires and the fire hazard associated with that issue.
Winch...
I also saw a other builders using cheap winches that they buy from Harbor Freight or Northern Tool. My winches are
MADE IN THE USA
Fulton brand units which I source from an industrial trailer supply. I even use new grade 8 cadmium plated hardware to bolt the winch to the mount. The last thing you want to deal with is a winch failing while you're trying to get some hay home to the animals on a cold winter day. These cost me a few bucks more, but the piece of mind is well worth it, not to mention supporting the good old red, white, and blue companies in this country.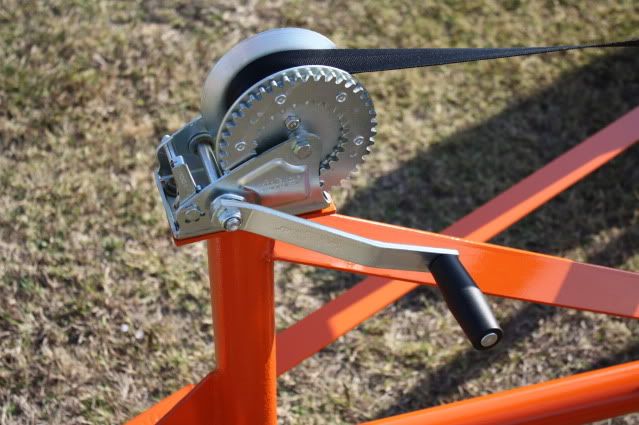 Wheels...
I use 15 inch GM pickup wheels which I sandblast to bare metal and then powdercoat. These wheels are quite a bit sturdier than the typical aftermarket trailer wheels. Powdercoat is also much more durable than paint too. I see other builders out there using Krylon spray paint right over rusty wheels.
Small things...
I weld rounded caps over the ends of the upright posts. This keep the rain out and also stops bees and wasps from making their winter home inside them. Most builders just leave them open.
Another area I saw that most folks overlook is the pivot points for the hay saddle. Every time you load or unload a bale, these points have to cycle through their range of motion. For this reason, all of my saddles are fitted with grease zerks so you can lube them periodically with a grease gun. Over time, mine won't seize up or get any annoying squeaks like the others will. For something that's going to be sitting out exposed to the weather year after year, I cannot imagine overlooking this feature, but, I've never seen another unit with them.
Here is the new coupler, fully welded into place top and bottom. Again, this is brand new from the trailer supply place and not one bought at the Chinese tool store. Also notice the triangular gusset welded into place which ties the vertical winch post, hitch coupler, and main frame backbone all together as one strong unit.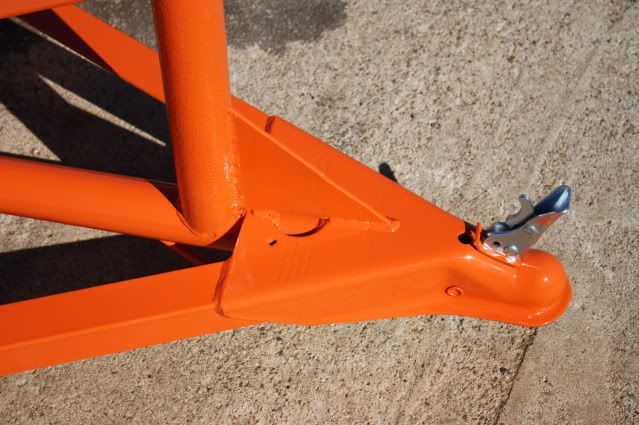 I weld large gussets into the corners of the hay saddles. I feel this area needs reinforcement to carry the load for the long haul. Without these, you're going to see cracks in the corners a few years down the road. This is basic high school physics that cheaper builders overlook with their concern of low price and speed of construction.
I taper the end of the forks to a bevel so they'll slide beneath the bale easier as you back up to it. I also weld plates over the exposed pipe ends to keep mud out when you're backing under a bale in a field.
Paint finish...
I use acrylic enamel paint that I buy by the gallon and spray with a spray gun. To this, I add hardener additive to give a more durable finish and improve the long term durability of the color. My competition either use aerosol spray can paint or brushed on cheap paint. The way I do it costs a bit more (about 40 dollars per unit more) but, again, I'm in the business of being the best not the cheapest.
Cost...
My units run 550 dollars. Shop around, I won't deny it, you can buy them as cheap as 400 dollars elsewhere. But, before you make that leap, look at my pictures and descriptions again, then look at the competition and ask yourself if it wouldn't be worth the extra 150 dollars over a cheap one to get something that will last long enough to pass down to your grandchildren and that gives you confidence that it will do the job when you need it to, every time. I can, with complete confidence, send my wife out by herself in the pickup with one of these to get hay and not worry about her having any troubles along the way. She's worth that to me.
The unit in the pictures is Kubota orange, but I will build to suit, in any color you choose. It takes me about a week to get one done for you. I try to keep one in stock at all times though, so if you aren't too particular about what color it might be, I can probably fix you up immediately.
Concerning lighting and registration...
A hay trailer like this does not require any registration so there are no added costs to worry about. And, as long as the vehicle is operated during the daylight hours, no lighting is needed either. It seems the bureaucrats have still left some things alone after all these years. If you have any concerns, you can research these issues if you'd like. The Texas DPS has a good website which details the particulars of farm trailers and the legalities of them.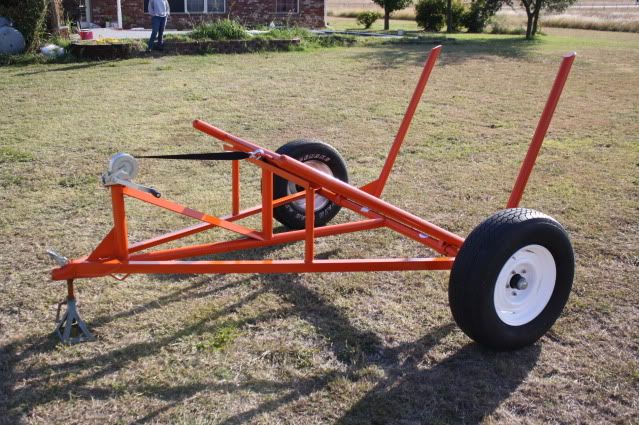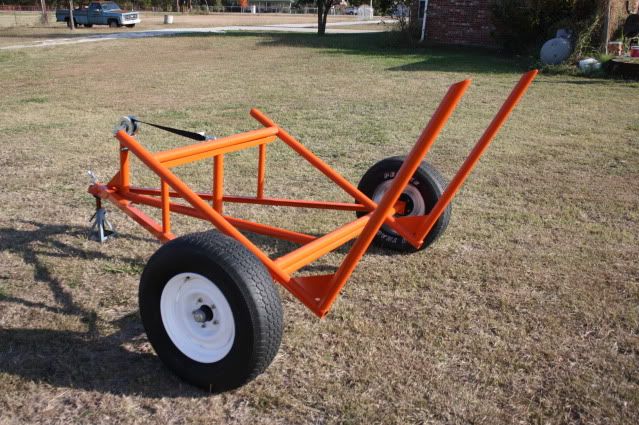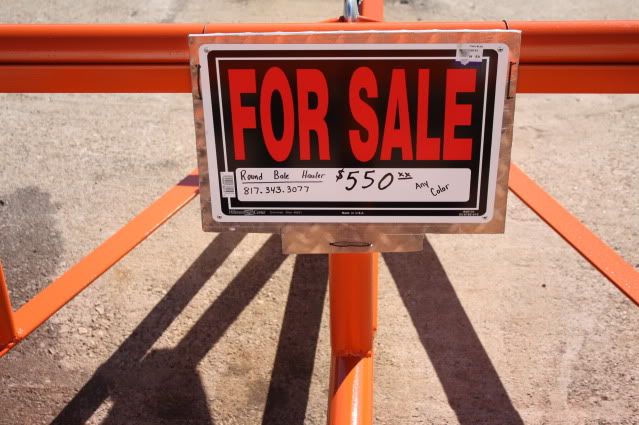 You're welcome to call me to discuss any questions you might have. My phone number is 817.343.3077. I'm a fireman so if you call and I don't answer, I'm probably working my shift and out on a run. Just leave me a message and I will return your call promptly.
Kevin Ayers.